«J'ai crée le FIFP pour montrer l'unité, la communauté universelle dans la diversité. Pour moi la méconnaissance de l'autre est source de conflit, et le cinéma est un bel outil pour enseigner la beauté et la tolérance. Mon idée était de montrer qu'à partir d'un concept qui semble à priori réservé à une communauté spécifique, on y découvre le monde entier»
"I created the FIFP in order to show the unity and the universal sense of community present within diversity. In my opinion a lack of knowledge and awareness of others is the source of conflict. Cinema is a great instrument for teaching about beauty and tolerance of others. My idea was to show that a whole world can be discovered from a concept that initially seems to be reserved for a specific community"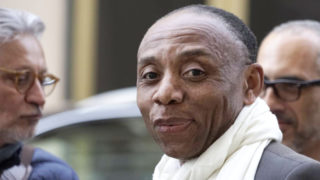 Eitel Basile NGANGUE EBELLE
Président/Fondateur
Médaille de Vermeille de la Académie, Arts, Sciences et Lettres
A PROPOS
Le Festival International du Film Panafricain (FIFP) de Cannes est une plateforme d'exposition du Cinéma et de ses métiers, des Arts et des savoirs-faire, mais également de l'Innovation, de la Culture et de l'Événementiel.
Le FIFP a été créé et fondé par Mr. NGANGUE EBELLE Eitel Basile et par l'association NORD SUD DÉVELOPPEMENT, association agréée jeunesse et Education Populaire Ministère de la santé, de la jeunesse et des sports n° 06514.
Moteur de développement de l'industrie du Cinéma et des Arts PanAfricains, le Festival recherche en permanence des solutions spécifiques au développement du Cinéma et des Arts PanAfricains.
Avec un Marché PanAfricain en plein essor (de l'Afrique aux Amériques en passant par les Caraïbes, l'Europe et l'Asie), le Festival bénéficie d'une expertise au service du développement du Cinéma et de la Mode ainsi que pour le développement des Affaires Culturelles.
Depuis 2006, date de sa création, le DIKALO AWARDS (« message » en langue Douala-Cameroun) est décerné par un jury professionnel au meilleur long et court métrage (fiction), au meilleur long et court métrage documentaire, Dikalos de la paix, au meilleur acteur et actrice.
Le FIFP est un moment, une expérience unique où le cinéma panafricain et les cultures africaines ainsi que celles de sa diaspora à travers le monde sont à la disposition de tous. C'est une énergie exceptionnelle.
Le FIFP de Cannes associe à ses activités de projection à des conférences et des ateliers.
D'ici quelques années, le marché des arts panafricains va générer des sommes considérables. « Nous sommes déjà demain ». Le potentiel est énorme pour le mettre en lumière.
Cet idéal est un « rêve actif » qui a fait de l'Africain et de sa diaspora ce qu'elle est aujourd'hui. Cela a été le véhicule de Mandela, il est celui d'Obama et bien d'autres…
Le Panafricanisme est un concentré de l'universalisme. Il a toutes les lumières, celle de l'Egypte antique et celle de l'avenir du monde. En somme, la beauté en permanence.
ABOUT US
The International "Festival International du Film Panafricain" (FIFP) in Cannes is a platform that exhibits cinema and its professions, arts and entrepreneurship, as well as innovation, culture and events.
The FIFP was created and founded by Mr. Eitel Basile NGANGUE EBELLE and the "Association Nord Sud Développement,  agréée jeunesse et Education Populaire Ministère de la santé, de la jeunesse et des sports n° 06514".
As a driving force behind the PanAfrican Cinema and Arts industry, the Festival is constantly seeking specific solutions for the development of PanAfrican Cinema and Arts.
With a booming Pan-African market (from Africa to the Americas through the Caribbean, Europe and Asia), the Festival benefits from expertise in the development of cinema and Fashion as well as the development of cultural affairs.
Since its creation in 2006, the DIKALO AWARDS (meaning « message » in the Cameroonian language Douala) has been awarded by a professional jury for the best short and feature films (fiction), the best long and short documentaries, the Dikalos Peace Award, as well as the best actor and actress awards.
The FIFP is a felt moment. It is a unique experience where PanAfrican cinema and African cultures and those of its diaspora around the world are the central focus. Exceptional energy is felt.
The FIFP in Cannes has included along with its projections, conferences & workshops.

A few years from now, the market which features pan-African arts will generate considerable sums. « Tomorrow is now ». This enormous potential must be brought forward into the light.
Such an "active dream" is an ideal that has made Africans and their diaspora what it is today. This was Mandela's and Obama's vehicle, as well as many others…
Pan-Africanism is an aggregate of universalism. It contains all of the lights, those of ancient Egypt and those of the future. In short, a constant beauty.