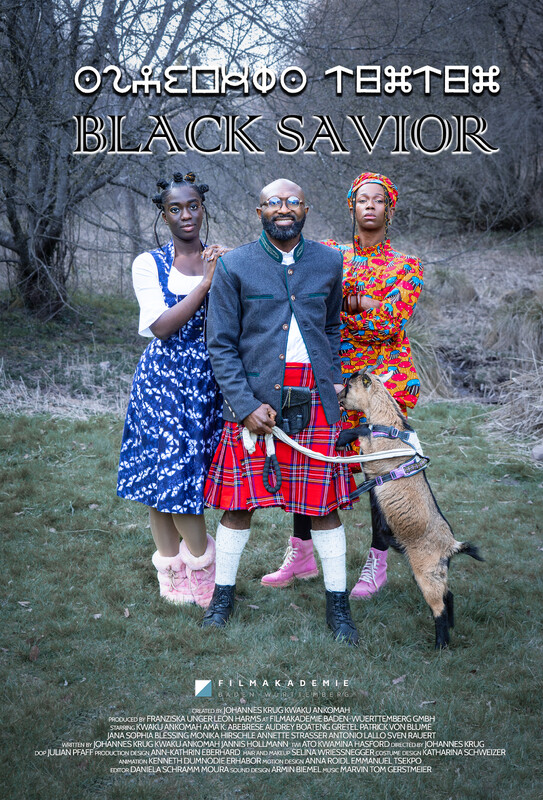 SAUVEUR NOIR (BLACK SAVIOR)
SAUVEUR NOIR (BLACK SAVIOR) [Sélection officielle/Official selection]
Réalisateur(trice)/Director: Johannes Krug & Kwaku Ankomah
Séance/Screening: Le jeudi 19 octobre à 15h40/Thursday, October 19th at 3:40PM
Durée/length: 00:30:00
Genre: Court-métrage, fiction/Short, fiction
Origin: Allemagne/Germany
Langue/Language: Anglais, allemand/English, German
Année/Year: 2022
Synopsis (FR) : Dans un univers fictif où la puissance coloniale Akanman a exploité Alemannien et ses tribus pendant des siècles, des coopérants et des volontaires noirs affluent vers le Yurududum blanc pour sauver les Yurudududuiens de leur sort.
Parmi ces sauveurs altruistes se trouve Kwame, qui a hérité d'un parc à chèvres au cœur de la jungle souabe et qui souhaite relancer le projet d'aide de sa défunte mère – Chèvres pour Yurududum. Sa femme Nana Adwoa, axée sur les affaires, et leur fille Akosua, accro aux médias sociaux, ont d'autres projets pour leurs vacances en famille. Kwame tente de mener à bien le projet des chèvres, mais c'est sans compter sur la résistance des activistes environnementaux locaux.
Synopsis (EN): In a fictional universe in which the colonial power Akanman exploited Alemannien and their tribes for centuries, black development workers and volunteers flock to white Yurududum in order to save the Yurududueans from their plight.
Among these selfless saviors is Kwame, who inherited a goat pen in the middle of the swabian jungle and wants to revive his late mother's forgotten aid project – Goats for Yurududum. His business oriented wife Nana Adwoa and their social media addicted daughter Akosua have other plans for their family holiday. Kwame tries to hold it all together and make the goat project a success but local activists fighting against his wife's secret plans to exploit the local limestone resources, could threaten his ambitions.