FILMS & SYNOPSIS
« La 5ème Corde »
Selma Bargach – 98min – Fiction – Maroc – 2011
Casablanca (Maroc), 1999. Malek passionné de luth décide de partir chez son oncle, le maître de la musique. Pour lui apprendre les subtilités de luth, Amir lui promet de lui révéler le secret de la 5ème corde, mais il s'aperçoit très vite de l'audace de son neveu et change de conduite. Lors de son apprentissage, Malek rencontre Laura, qui lui donne l'énergie suffisante pour poursuivre son rêve. Casablanca, Morocco, 1999. Malek is a passionate with lute music. He decides to leave his uncle who is the master of music. In order to teach him all subtleties of a lute, Amir promises him to reveal the secret of the fifth cord. But he becomes soon aware of his nephew's audaciousness and behaves in a different way. During his learning process, Malek meets Laura. She gives him the energy to pursue his dream.
Mercredi 25 Avril 2012 – 22h15
« 30 Vies »
Fabienne Larouche – 120 min – Fiction – Canada – 2011
Aurélie Bertrand est une jeune femme enjouée et influençable. D'origine métissée, sa mère Manon est noire et son père Alexandre est québécois. À la maison, Aurélie est confrontée à une éducation très stricte et ses parents contrôlent ses moindres faits et gestes. Témoin de la soumission de sa mère devant les volontés de son père, l'adolescente se rebelle de plus en plus. Qu'est-ce qui se cache derrière cette emprise excessive? Aurélie et sa famille seraient-elles sous l'emprise d'une secte? Mercredi 25 Avril 2012 – 9h00
« Abandon de Poste »
Mohamed Bouhari – 15min – Maroc/Belgique – 2010
Alain, un grand noir musclé, est agent de sécurité qui travaille devant une joaillerie. Le jour d'un vernissage qui se passe dans la galerie d'art d'en face, il est déstabilisé par la présence d'une statue africaine de taille humaine déposée exactement devant la galerie exactement en face de lui. Troublé, il rend visite à son père placé dans un home quand ce dernier lui annonce qu'il va rentrer mourir au pays. Comme alors un jeu de chat de souris entre lui et le galeriste pour se débarrasser de la statue source de son malaise.
Alan, a big beefy black man, is a security agent, working in front of a jewelry shop. One day, there is a vernissage at the art gallery on the opposite side of the road. He loses control, standing in right in front of a man size African statue exhibited in the gallery. In a scared state of mind, he goes to see his father who is living in a mobile home and who tells him he will go home to Africa to die. From that point on, there is a sort of cat and mouse game starting between him and the gallery owner in order to get rid of the statue which makes him so scared.
Mercredi 25 Avril 2012 – 14h50
« La Baie d'Alger »
Merzak Allouache – 90min – France – 2011
La Baie d'Alger reflète l'apprentissage de la vie, par un adolescent, au cœur d'une époque tourmentée. Durant toute cette période Zoé, sa grand-mère, l'accompagne. Avec sa force de vie, sans gémir sur le paradis perdu.
Ce couple improbable et original d'un petit-fils et de sa grand-mère est le fil sensible du film. Il ne s'agit pas d'une simple chronique, les scènes s'enchaînent, les personnages évoluent, se révèlent plus mystérieux et surprenants que l'on pourrait croire.
"The Algiers Bay" reflects a young boy's process of becoming a grown up in the middle of a difficult period. During all this time, Zoé, his grandmother, is staying with him, without ever complaining about the lost paradise. Their unusual couple is the red thread of the film. It is not just a simple chronicle; the scenes are succeeding, people are evolving, and at the end of the day, they are more mysterious and surprising than what they initially seemed to be.
Mardi 24 Avril 2012 – 20h00
« Les Baobabs ne Poussent pas en Hiver »
Henri Henriol – 95min –Fiction – Sénégal – 2011
Jean-Yves, 45ans, débarque au Sénégal en quête de sens sans grande conviction. Il va poser ses valises chez Angelo Martini, un vieux routard, un « blanc cassé » qui en a vu passer d'autres, des expatriés, dans son petit hôtel. Babacar, lui, a 25ans. Son avenir c'est l'Europe juste de l'autre côté de la Méditerranée. Jean-Yves ne s'embarrasse pas du sort des gamins comme Babacar, des jeunes Africains prêts à tout pour fouler la Terre Promise. Il en a suffisamment vu dans les rues de Marseille.
Jean-Yves, 45, arrives in Senegal, looking for the sense of life without conviction. He settles at Angelo Martini's hotel. Angelo is a former truck driver, a "broken white man" who saw other expatriates pass by. Babacar is 25. His future is Europe, just on the other side of the Mediterranean Sea. Jean-Yves doesn't care about the destiny of youngsters like Babacar. He saw enough of these young Africans ready to do anything to walk on the Promised Land. He saw them in Marseille. Samedi 28 Avril 2012 – 15h00
"Bob Marley, Making of a Legend"
Gian Godoy et Esther Anderson – 90min – Fiction – Angleterre/Jamaïque – 2011
Un portrait kaléidoscopique d'une légende. A travers des scènes des années 1970, la cinéaste jamaïcaine Esther Anderson a judicieusement fait l'union entre le reggae et le rasta qui a lancé la carrière internationale et l'image renommée de Bob Marley et les Wailers. Sa vision originale montre le changement radical de perception et de la conscience tant musicale que sociale dans le monde entier.
A kaleidoscopic portrait of the making of a legend. Through intimate scenes shot on a Sony video camera in 1970s Jamaica filmmaker Esther Anderson artfully constructed the union between Reggae and Rasta that launched the international career and renowned image of Bob Marley and The Wailers. Revisiting that formative time she reveals to what degree her original vision set in motion the radical change of perception and consciousness both musically and socially around the world.
Samedi 28 Avril 2012 – 19h30
« La Boîte aux Lettres »
Chico Koffi Gnassounou – 15min – Fiction – France – 2011
Un homme descend les marches des escaliers. Dès qu'il arrive au niveau des boîtes aux lettres, les souvenirs des lettres qui ont rythmé sa vie lui reviennent.
A man walks down the stairs. When he arrives at the mailbox, memories of letters which marked his life arise.
Mardi 24 Avril 2012 – 20h00
« Cabralista »
Valerio Lopes – 52min – Doc – Cap Vert/Luxembourg – 2011
Amilcar Cabral est passée de militant révolutionnaire pour l'indépendance de plusieurs pays africains, au père du plus exemplaire des mouvements politiques de l'Afrique. Sa vision politique a fait du Cap Vert un pays stable et développé. Ce documentaire illustre sa vision à travers de jeunes africains.
Cabralista reflects the collective memory, how this revolutionary theoretician whose influence reverberated far beyond the African continent is remembered. This documentary is a unique vision of Africa yesterday and today.
Samedi 28 Avril 2012 – 16h50
"Calypso Rose, the Lioness of the Jungle"
Pascale Obolo – 82min – Doc – trinidade et tabago – 2011
Calypso Rose, l'ambassadrice de la musique caribéenne est une légende vivante, un personnage charismatique et une diva incontestée de la musique calypso. En voyageant de Paris à New York en passant par Trinidad et Tobago en compagnie de Rose, nous en apprenons d'avantage sur les multiples facettes de sa vie. Ce film ne met pas seulement les souvenirs et le melting pot des cultures en avant, il raconte la vie d'une femme militante et authentique, une artiste exemplaire, loin du bling bling à l'aube de sa vie.
Calypso Rose, the ambassador of Caribbean music, is a living legend, a charismatic character and the uncontested diva of Calypso Music. Traveling with Rose from Paris to New York via Trinidad, Tobago and back to Africa, in each place, we learn a little more about the many faces and facets of her life. It is a film not only about memory, the exchange and discovery of world cultures, but also the journey of a militant and authentic woman, an Afro-Caribbean soul, an exemplary artist, far from the glitz and glitter, at the dawn of her life.
Vendredi 27 Avril 2012 – 20h00
« Un Cargo pour l'Afrique »
Roger Cantin – 90min – Fiction – Canada – 2009
De retour au Canada après un exil de 20 ans en Afrique, où il s'est consacré à des tâches humanitaires, Norbert, ancien révolutionnaire, ne souhaite que retourner chez lui. Pris dans le système bureaucratique canadien, il envisage d'embarquer clandestinement sur un cargo. Avant de partir, il fait la rencontre d'un jeune garçon, Christophe, un jeune délinquant qui insiste pour trouver une famille à Trotsky, le singe capucin que Norbert doit abandonner avant de prendre le bateau. Christophe convainc Norbert d'aller placer Trotsky au zoo et de le laisser au passage chez sa mère,
près de Québec, où Norbert devra attraper le cargo qui est parti sans lui.
Back in Canada after a 20 years exile in Africa where he afforded humanitarian jobs, Norbert, a former revolutionary only wants to go back home. Feeling like a prisoner in the Canadian administrative system, he thinks of leaving on a cargo as a blind passenger. Before leaving, he meets young Christophe, a criminal, who wants to find a home for Trotsky, the capuchin monkey Whom Norbert must leave before going on board. Christophe convinces Norbert to leave Trotsky in a zoo and to first leave him with his mother who lives near Quebec where Norbert is to take the cargo which left without him in the meantime.
Jeudi 26 Avril 2012 – 22h45
"The Change History through Guineans' Eyes"
Chiara Cavallazzi – 71min – Doc – Italie/Guinée – 2010
Les récentes révoltes ont marqué la Guinée Conakry en 2007. Cependant, cette histoire a été cachée par le régime en place ainsi que par l'indifférence des médias et de la communauté internationale : De la plus grosse révolte populaire contre le régime militaire (2007), aux premières élections « démocratiques » (2010), en passant par le coup d'Etat (2009). Une histoire racontée d'un point de vue strictement guinéen, ce qui aide à répondre à l'incompréhension de la situation politico-social actuelle.
The wind of the current revolts already blew in Republic of Guinea in 2007. But this story has been hidden between an army closed to the regime and the indifference of both the Medias and the International Community: From the biggest popular revolts military regime (2007), through the military Coup d'Etat (2009) to the first "democratic" election (2010). A history seen strictly from the Guinean point of view, that helps in understanding what's happening nowadays.
Vendredi 27 Avril 2012 – 11h45 "The Christmas Tree"
Angel Kristi Williams – 12min – Fiction – USA – 2011
Un père célibataire au chômage se prépare à passer son premier Noël seul avec sa fille. Mais quand leur arbre est perdu le soir du réveillon, il se retrouve dans une situation embarrassante.
A struggling single father prepares to spend his first Christmas alone with his daughter. But when their tree is lost on Christmas Eve, he's placed in a troubling predicament.
Mercredi 25 Avril 2012 – 14h50
« Clics et Déclics »
Eljaouhary Abdelilah – 12min – Fiction – Maroc – 2011
Un quadragénaire, fortement imprégné par une longue tradition iconoclaste, est forcé de se prendre en photo pour obtenir son passeport et partir à la Mecque. Il découvre à sa grande surprise que la machine photographique possède sa propre métaphysique.
A man in the 40s, strongly impregnated by a long iconoclastic tradition, is obliged to take a picture of himself in order to get a passport to go to Mecca. Very surprised, he discovers that the photo machine has got its own metaphysics.
Mardi 24 Avril 2012 – 17h05
"The Contradiction of Fair Hope"
Epatha Merkerson et Rockell Metcaff – 67min – Doc – USA – 2012
Ce documentaire retrace la vie des esclaves libérés qui ont courageusement formé des sociétés
bienveillantes en Amérique de l'époque de l'esclavage à la société moderne.
This documentary provides an unprecedented window into the lives of freed slaves who courageously formed benevolent societies in America as they transitioned from slavery to freedom. The film examines the historical impact of the fair hope benevolent society juxtaposed against the worldly pleasures gifts modern day "foot wash" celebration.
« Coup de foudre »
Frantz St-Louis – 95min – Fiction – Canada – 2007
Yanick Dutelly incarne une mère possessive (Mona Pezotti). La conception de son époux, Toto Laraque (John Pezotti), tend à servir le plus souvent des obstacles à sa douce moitié. Deux amis complices de la famille : Harry Delva (Jacky) joue le représentant d'une boussole qui dirige vers l'harmonie; alors que son ami opposant, Pierre-Michel Ménard (Robinson), penche du côté pessimiste de la mère. Harry Clerveaux, (BoBo) et sa promise, Marie Émilie Jean- Baptiste (Barbara)se retrouvent face à leur destin.
Yanick Dutelly plays the role of a possessive mother (Mona Pezzotti).
Vendredi 27 Avril 2012 – 22h50
« Couloir Extérieur »
Dan Occo – 47min – Doc – France – 2010
Nylo rêve de devenir athlète professionnel. Mais il veut aussi poursuivre ses études et obtenir un diplôme comme beaucoup de sportifs. Allier sports et études en France sont des projets compliqués. Nylo wants to become a professional track and field athlete. But he also wants to go to college and obtain a diploma as many athletes. Nowadays, ally sport and studies in France is sometimes complicated.
Mardi 24 Avril 2012 – 15h10
"Dar He: Lynching of Emmett Till"
Rob Underhill – 68min – Fiction – USA – 2012
En un véritable tour de force, un home joue 36 rôles pour conter la tragédie d'Emmett Till. Vivez l'histoire, le jugement et les confessions incroyables des personnes accusées du meurtre d'Emmett dans cette pièce captivante. Une performance magistrale de « Mike Wiley ».
In an acting tour de force, one man performs 36 roles in the telling of the Emmett Till tragedy. Experience the story, trial, and unbelievable confessions of those accused of Emmett's murder in this riveting drama.
Jeudi 26 Avril 2012 – 20h00
« Les Deux Histoires d'Adama »
Anna Maria Gallone – 49min – Doc – Italie/Burkina Faso – 2011
Jusqu'à il y a 8 ans, Adama était un petit esclave dans une mine d'or du Burkina Faso, exploité 12 heures par jour en échange d'un plat de riz et de légumes, frappé avec un bâton s'il ne tenait pas le rythme du travail. Chaque semaine, un éboulement ou miasme toxique tuait quelqu'un.
Maintenant il fréquente l'université de Brindisi en Italie. Il parle parfaitement l'italien et le dialecte salentino avec les vieux du pays. Tout a commencé avec un film et une productrice italienne dans son pays pour tourner dans la mine où Adama travaillait. La femme a été frappée par la grande tristesse de ses yeux et par son français, parlé d'une manière impeccable. Ses rêves deviennent réalité : « Je voudrais étudier la communication, devenir un éducateur interculturel et après
retourner dans mon pays pour ouvrir une école pour tous les enfants qui désirent étudier mais qui n'en ont pas eu la possibilité, comme cela l'a été pour moi ».
Up to 8 years ago, Adama was a little slave in a gold mine in Burkina Faso, exploited 12 hours a day against a plate of rice and vegetables, beaten whenever he couldn't hold the working rhythm. Every week, a landslip or a toxic miasma killed somebody. At the present moment of time, he goes to the Brindisi University in Italy. He speaks a perfect Italian and even the salentino dialect with the elderly. Things started with a film and with an Italian producer lady in his country who wanted to make a film in the mine where he worked. The lady was hit by the immense sadness in his eyes and by the perfect French he spoke. His dreams become reality: "I would like to study communication and then become an intercultural educator. After that, I'll go back to my country to open a school for all the children who want to study but who didn't have the same possibility as the one I had." Mercredi 25 Avril 2012 – 14h50
« Dimanche à Brazzaville »
Enric Bachet Adria Monés – 51min – Doc – Espagne – 2011
Un jeune présentateur radio, Carlos La Menace, nous invite à partager le weekend de trois personnes de la capitale du Congo, Brazzaville. Le sapeur Yves Saint Laurent, entouré de pauvreté extrême, nous décrit l'élégance comme un vrai mode de vie. Cheriff Bakala n'est pas un rappeur ordinaire. Enfin, Palmas Yaya, Champion de catch de Brazzaville, s'en remet au voodoo pour défendre son titre à un moment crucial de sa vie.
A young radio talk host, Carlos La Menace, unveils in his weekend show three figures of Congo's capital, Brazzaville. The sapeur Yves Saint Laurent, surrounded by extreme poverty, chooses elegance as a way of life. Cheriff Bakala is not a usual rapper. Finally, Palmas Yaya, Brazzaville's wrestling champion, is relying on voodoo to defend his throne in a crucial moment of his life. Mardi 24 Avril 2012 – 12h15
Un Dimanche à Kigali
Robert Favreau- 118min – Fiction – Canada – 2006
Kigali, printemps 1994. Alors qu'il tourne un reportage sur le sida au Rwanda, le journaliste québécois Bernard Valcourt est témoin des tensions grandissantes entre les communautés Tutsis et Hutus. Depuis le chic Hôtel des Mille Collines, où il loge, et où travaille Gentille, la serveuse dont il est épris, Valcourt tente d'expliquer aux médias canadiens les causes du conflit imminent. Or, celui-ci éclate avant qu'il n'ait eu l'opportunité d'épouser Gentille afin de la doter de la protection diplomatique. Dans le chaos, les deux amoureux sont bien vite séparés. Après avoir passé plusieurs mois bloqué à la frontière, Valcourt revient dans la capitale, complètement ravagée, dans l'espoir d'y retrouver Gentille. Mais la jeune femme est introuvable.
Samedi 28 Avril 2012 – 9h00
Les Enfants d'Hampâté Bâ
Emmanuelle Villard – 50min – Doc – Sénégal – 2011
Ce documentaire exprime, à travers Souleymane Diamanka, Mamadou Dème et Aïchatou Saw, la transmission de leur culture entre générations, le lien au pays d'origine ainsi que la place des immigrés et de leurs descendants au sein de la société française.
Through Souleymane Diamanka, Mamadou Dème and Aïchatou Saw,this documentary film shows the transmission of their culture between the generations, the link with the origins as well as the immigrants' and their childrens' places in the heart of the French society.
L'Envol
Naïma Bachiri – 20min – Fiction – France – 2011
Ce film raconte avec subtilité le jour où des parents usés par la vie doivent se séparer de leur fils adulte né autiste.
In a subtle way, the film counts the day when parents, worn by life, must get separated from their grown up sun who was born autistic.
Jeudi 26 Avril 2012 – 22h45
Les Etats-Unis d'Afrique
Yanick Létourneau – 75min – Doc – Canada – 2012
Pour Didier Awadi, le hip-hop est une arme de résistance sociale et un outil idéologique qui rappelle aux peuples africains la mémoire de leurs héros injustement effacés de l'histoire par des gouvernements gangrenés et des dictateurs effrayés par la puissance de leur symbolique. Cet acte militant, il l'accomplit en réalisant un nouvel album intitulé Présidents d'Afrique, sur lequel il multiplie les collaborations artistiques, tantôt au Burkina Faso, tantôt en Afrique du Sud, tantôt aux États -Unis. Entre sa lutte pour le ressouvenir et son entreprise qu'il dirige habilement, Didier Awadi veut s'élever au titre de passeur de mémoire et de modèle, afin d'encourager l'Afrique à se révolter contre l'oppression systématique qu'elle subit depuis toujours.
For Didier Awadi hip hop is an arm of social resistance and an ideological tool which reminds the African populations the memory of their heroes who were wrongfully erased of history by corrupt governments and dictators who were scared by the power of their symbolism. He makes this militant action become real by a new album titled Presidents of Africa. In this album, he puts together artistic collaborations, in Burkina Faso as well as in South Africa as in the United States. Between his fight for new souvenirs and his successfully directed company, Didier Awadi wants to rise and to become a memory transmitter and a model in order to encourage Africa to uprise against the permanent oppression.
Fièvres
Arianne Doublet – 43min – Doc – France – 2009
Nous voilà dans le cabinet du docteur Moussa Meman. La pièce est rudimentaire, quelques chaises, une couche pour s'étendre. Pour les personnages, le docteur Meman, son assistant, quelques malades, sans oublier un guérisseur. Allié du guérisseur, devenu guérisseur lui-même, le médecin passe de la médecine européenne aux recettes magiques ancestrales. Physicien doublé d'un psychanalyste, il fait tomber la fièvre.
The action happens in Dr. Moussa Meman's medical cabinet. A rudimental room, some chairs, a carpet to lie down on. Three people, the doctor, his assistant, some patients and the healer. Confederate with the healer, the doctor became a healer himself. He moves between traditional European medicine knowledge and ancient magical healing methods. A physician and a psychoanalyst who makes the pyrexia go down.
Jeudi 26 Avril 2012 – 12h30
« La Gestion de l'Eau et des Ressources Naturelles comme Enjeu Prioritaire »
Elodie Wattiaux – 56min – Doc – France – 2011
Face au constat de la désertification et de la dégradation des ressources naturelles et à la précarisation des conditions de vie des populations qui en découlent, l'aménagement des eaux de surface et la gestion concertée et intégrée des ressources naturelles constituent aujourd'hui la voie privilégiée de développement au Mali et particulièrement en région de Kayes.
In view of desertification and degradation of natural resources as well as the living conditions of populations who become poorer and poorer by these conditions, the managing and integration of surface water and natural resources are representing, at the present moment of time, the privileged way of development in Mali and especially in the Kayes area.
Mercredi 25 Avril 2012 – 16h20
« Gwada Ride »
Marco Boye – 48min – Doc – France – 2011
Addy Pochet et Moise Venter sont coureurs guadeloupéens. Ces passionnées qui consacrent leurs weekends à la préparation de leurs bolides nous dévoilent quelques secrets pour rester en tête d'affiche dans le milieu du tuning et de la course automobile.
Addy Pochet and Moise Venter are guadeloupan racing drivers. They are passionate and they spend their weekends preparing their racing cars. They give us their secrets for staying among the best in the tuning and car racing milieu.
Mardi 24 Avril 2012 – 15h10
« La Hija Natural »
Leticia Tonos – 95min – Fiction – République Dominicaine et Porto Rico – 2011
Maria est une jeune fille de 18 ans qui a l'étrange habitude de mettre des coccinelles dans sa bouche. Après que sa mère ait été tuée dans un accident, elle décide de partir à la recherche de son père qu'elle n'a jamais vu. Maria traverse un petit village superstitieux de la République Dominicaine et trouve son père vivant dans une vielle maison sombre qui se situe au milieu d'une plantation de bananes abandonnée et hantée par les esprits. Il vit avec un énigmatique haïtien. Mais n'ayant nulle part où aller, elle n'a d'autres options que de rester avec cet ivrogne devenu récemment veuf. L'arrivé d'un jeune homme de Porto Rico va rendre encore plus difficile la réconciliation entre père et fille.
18 year old Maria has the strange habit of putting ladybugs in her mouth. After her mother dies in an accident, she decides to look for a father she has never met. Maria travels a picturesque and superstitious little town in the Dominican Republic and finds her father living in a dark old house located in the middle of an abandoned banana plantation, which the locals claim to be haunted by spirits. He lives there with an enigmatic Haitian as his only companion. Having no one else in the world, she has no option but to stay with this drunken and recently widowed old man. The arrival of a mysterious and attractive young man from Puerto Rico will also get in the way of their reconciliation.
Mercredi 25 Avril 2012 – 13h00
« Hymen national »
Jamel Mokni – 55min – Doc – Belgique – 2011
Hymen national, malaise dans l'Islam. Point de départ du film, la virginité, cependant très vite dépassé pour élargir le débat à la question primordiale liée aux droits des hommes et des femmes en général.
National hymen, nausea of the Islam. Virginity, the starting point of the film, quickly evolves to reach the main discussion point, human rights of men and women.
Vendredi 27 Avril 2012 – 10h30
Ithemba
Elinor Burkett et Errol Weber – 70min – Doc – Zimbaoué – 2008
Le film suit les membres d'un groupe de musique du Zimbaoué, un groupe composé de huit musiciens dotés de handicapes physiques et considérés comme maudits par les voisins. Les jeunes hommes drôles et talentueux prennent des visionneurs avec eux à mesure qu'ils traversent la ville de Bulawayo, ses villages retirés, ses commerces ruraux ainsi que ses marchés urbains, et qu'ils visitent les huttes de guérisseurs. Visite d'une Afrique que les gens de l'extérieur voient rarement, où la tradition ne renvoie pas toujours à la douceur et où les gens piégés ripostent par des coups de feu.
The film follows the members of the Zimbabwean band Liyana, a group of eight musicians with physical disabilities who navigate a country where many of their neighbors consider them to be cursed. The funny and talented young people take viewers with them as they travel across the city of Bulawayo and into remote villages, to rural bottle shops and urban marketplaces, inside the huts of traditional healers and the neighborhoods of the urban poor – into an Africa rarely seen by outsiders, a place where tradition is not necessarily gentle, where it threatens to trap the unfortunate, and where a few fight back.
Jeudi 26 Avril 2012 – 12h30
« Le Journal d'un Coopérant »
Robert Morin – 91min – Fiction – Canada – 2009
Lorsqu'il se rend en Afrique afin de se joindre à une ONG – Radio du Monde, qui répare l'équipement des radios locales – Jean-Marc Phaneuf se retrouve au beau milieu d'un pays déchiré par la guerre civile, où la population vit dans un constant climat de peur et de faim. Il décide de filmer son expérience sur le terrain, où il fait la rencontre d'Africains déterminés à améliorer leur situation. Mais les efforts de l'aide internationale semblent vains, et Jean-Marc perd peu à peu toutes ses illusions. Pendant son séjour, il observe, il filme, et il tombe même amoureux.
Going to Africa in order to join a humanitarian organism he reaches a country which is lacerated by civil war and where the population is living in a permanent atmosphere of fear and hunger. He decides to turn a film on his experience and he meets African people who are decided to better their living conditions. But the efforts of the international help seem to be vain and Jean-Marc is continuously losing his illusions. During his stay, he stays observing, turning his film and even falling in love.
Jeudi 26 Avril 2012 – 10h30
"Keeper of the Flame"
Brian Nelsor – 30min – Fiction – USA – 2011
La culture énigmatique du Mardi Gras est un des piliers de la communauté de la Nouvelle-Orléans ainsi qu'un symbole de force. Mais quand le grand chef d'une tribu indienne très en vue meurt subitement, d'importants défis de leadership émergent…
The enigmatic Mardi Gras Indian culture serves as a pillar in the community and symbol of strength. But when the big chief of a prominent Indian tribe dies unexpectantly, leadership challenges emerge…
Mercredi 25 Avril – 16h20
L
Hassane Dahani – 18min – Fiction – Maroc – 2011
Labib est un grand peintre qui était fou de sa femme. Elle était sa muse. Depuis sa disparition, il a perdu toute inspiration, il s'est isolé et ne fait plus que reproduire le même portrait, celui d'une femme très moche…
Labib is a famous painter who lost his wife in obscure circumstances. He was crazy about her. She was his muse and he used to paint only her. Now that she is gone, he cannot have a regular life, and he is not able to forgive her…
Vendredi 27 Avril 2012 – 22h50
« Les Mains Noires »
Tetchena Bellange – 52min – Doc – canada – 2010
L'histoire cachée du Canada. Angélique, une esclave noire accusée d'avoir brulé Montréal en 1734, est torturée et condamnée à mort après un procès épic. Mais elle était-elle vraiment coupable ou a-t-elle été la victime d'une conspiration plus grande ? Pourquoi cette amnésie volontaire de cette page inconnue de l'Histoire ? Le film inclut des interviews avec les historiens qui parlent non seulement d'Angélique, mais aussi de ce refus général d'admettre que l'esclavage fait partie de l'histoire canadienne.
A documentary about a hidden story of Canadian history: The one of Angelique, a Black slave accused of burning Montreal in 1734. After an epic trial, Angelique is tortured and sentenced to death. But was she really guilty or was she the victim of a bigger conspiracy? Why this voluntary amnesia about this unknown page of history? The film includes interviews with historians who not only talk about Angelique but also about this general refusal to admit that slavery is part of Canadian history.
Vendredi 27 Avril 2012 – 15h15
« Médecins sans Résidence »
Tetchena Bellange – 10min – Doc – Canada – 2010
Ce court métrage documentaire montre comment la discrimination empêche des médecins formés à l'étranger d'exercer au Canada – même lorsqu'ils ont obtenu une attestation de compétence des autorités médicales canadiennes. Des entrevues avec des professionnels de la santé et des défenseurs des droits de la personne illustrent comment le racisme systémique joue un rôle dans cette situation.
Mardi 24 Avril 2012 – 20h00
« Mikel's Faith »
Alexander Etseyatse – 32min – Fiction – USA – 2011
Mikel Hill, un ancien champion de baseball incarcéré, est subitement libéré. Il essaie alors de reconstruire sa vie d'avant et de reprendre contact avec ses amis d'antan.
Mikel Hill, an incarcerated former Golden Glove Champ, is suddenly released from prison. He then tries to restore his former life and confronts his past friends.
Mardi 24 Avril – 13h20
« Moi, Maryse C., Ecrivain Noire et Rebelle »
Dimitry Saleem Zandronis – 59min – Doc – France – 2011
Le propos de ce documentaire est, d'une part, de faire découvrir un auteur caribéen majeur, et d'autre part, de saisir le processus de création d'une œuvre. Au travers de la biographie de Maryse Condé, il s'agit de suivre son évolution artistique en créant un univers filmique proche de sa littérature en faisant appel à l'animation 2D/3D et à la fiction.
The comment of this documentary is first to make discover a major Caribbean author, and secondly to seize the process of creation of a work. Through the biography of Maryse Condé, it was a question for the director of following its evolution by creating a cinematic universe close to its literature by appealing to the 2D/3D animation and the fiction.
Vendredi 27 Avril 2012 – 13h30
« La Mort de Danton »
Alice Diop – 64min – Doc – France – 2011
Steve a décidé de devenir acteur. Il a suivi pendant 3 ans les enseignements du cours Simon. Steve vient de Seine Saint Denis, il est noir et rêve de tenir le rôle de Danton.
Steve has decided to become an actor. For three years, he took acting classes at Le cours Simon, a renewed French drama school. Steve comes from a sensitive Parisian city, he is black and dreams of playing the part of a French revolutionary icon: Danton.
Mardi 24 Avril 2012 – 13h20
« Le Mozart Noir à Cuba »
Steve et Stéphanie James – 52min – Doc – Français – 2006
Joseph Bologne alias Le Chevalier Saint Georges, appelé le Mozart Noir, ou le Voltaire de la Musique, était un compositeur afro-français, violoniste, chef d'orchestre, escrimeur de talent et Chef de brigade. Le Chevalier de Saint Georges va devenir l'un des personnages les plus célèbres et les plus charismatiques de son temps.
Joseph Bologne alias Le Chevalier Saint Georges, called the Black Mozart or the Voltaire of Music, was an afro-french composer, a violin player, an orchestra director, a talented swordsman and a brigade chief. The Chevalier de Saint Georges will become one of the most well-known and charismatic people of his epoch.
Mardi 24 Avril – 10h30
« Le Pain Amer »
Hassane Dahani – 20min – Fiction – Maroc – 2009
Naïma est une charmante jeune femme célibataire et maman d'une fille de 2 ans. Elle prend en charge son père qui est atteint d'Alzheimer et n'entend pas bien. Agacée par la façon dont elle gagne sa vie et les questions pertinentes de son père, Naïma se retrouve dans une impasse.
Naïma is a lovely young single and the Ma of a2 year old girl. She assists her Alzheimer attempted Dad who doesn't hear well. Harassed by the way she's earning her life and the insisting questions of her father, Naïma finds herself in an impasse.
« Obsession »
Amine Chiboub – 19min – Fiction – Tunisie – 2009
Hédi, un jeune homme d'une trentaine d'années emménage dans un vieil appartement où il fera une mystérieuse découverte qui changera radicalement sa vie !
Hédi moves into an old flat where he will discover a mysterious phenomenon which will totally change his life.
Mardi 24 avril 2012 – 10h30
« Noirs de France »
Juan Gélas – 156min – Doc – France – 2011
Africains, Malgaches, Réunionnais, Martiniquais, Guadeloupéens, Guyanais, Comoriens, Haïtiens, Kanak… Parisiens, Bordelais, Marseillais, Lillois et bien d'autres lieux encore. Noirs et Français, tout simplement. Depuis plus de trois siècles, et pourtant…
Etre noir en France c'est héritier de plusieurs siècles de lutte, sacrifices et de passion pour obtenir la liberté, l'égalité et la fraternité. C'est aussi une histoire de rencontres et de combats partagés. Pour la première fois une grande série documentaire nous plonge au cœur d'une histoire encore mal connue avec ses pages sombres et ses moments de lumières.
From 1889 to our days – 130 years of shared history.
This three-part documentary film weaves together many archives and new testimonies to tell us about the contemporary French black history over 130 years. This film gives a voice to both the protagonists and the heirs of this history and relays the building of a French Black identity. An old history, a presence which becomes visible with the 1889's World Fair. A story which goes through two World war, the colonial period, the Independencies, and the time of the migrations from the West Indies and Africa, but also from the Indian Ocean, New Caledonia, and from the African American influence since the Interwar period.
Samedi 28 Avril 2012 – 12h00
« Les Oiseaux Volateurs »
Denys Piningre – 58min – Doc – Cameroun – 2011
Ce film aborde la question d'un retour à la souveraineté alimentaire au Centre Cameroun, abandonnée depuis la colonisation, au profit de la culture intensive du cacao.
This documentary treats with a comeback of food sovereignty in Cameroon, given up since colonization for intensive cacao culture.
Mercredi 25 Avril 2012 – 10h30
« Ouaga Mélodie »
Uriel Jaoven Zrchen – 13min – Fiction – Burkina Faso – 2011
Burkina Faso. Ouagadougou. Un flûtiste dans la ville. Une femme qui tombe. Une éclaircie, celle d'Ouaga Mélodie.
Burkina Faso. Ouagadougou. A flautist in the city. A woman falling. A ray of hope. The story of Ouaga Mélodie.
Mercredi 25 Avril 2012 – 10h30
« Rites Electriques en Guinée Conakry »
Julien Rout et Florian Draussin – 52min – Doc – France – 2012
La guinée Conakry est le pays qui a révolutionné la guitare électrique en Afrique de l'Ouest. En plongeant dans l'histoire de cet instrument de la période coloniale à nos jours, nous rencontrons les inventeurs d'une musique populaire aussi loin des clichés exotiques que la world music. Des animations nocturnes de la capitale aux cérémonies mythique des villages, ce film est un voyage exalté dans les transes électriques de ce pays encore mal connu.
Guinea Conakry is the country that revolutionized the electric guitar in West Africa. By immersing ourselves into the history of this instrument from the colonial period to today, we meet the inventors of popular music far from the exotic clichés. From the nightlife in the capital to the mystical ceremonies of the village, this film Is a journey into trance exalted power of this country still poorly understood.
« La Rumeur des Pierres »
Alejandro Bellame Palacios – 100min – Fiction – Venezuela – 2011
Delia est une femme qui travaille dure entièrement consacrée à ses enfants, William et Santiago. Elle rêve de leur donner une vie meilleure. Il y a 10 ans, une catastrophe naturelle lui a arraché sa jeune fille l'obligeant à chercher refuge avec sa famille dans une petite chambre minable dans un bidonville très dangereux de Caragas. Delia craint pour la vie de ses enfants et elle est prête à tout faire pour les protéger de la violence, et surtout pour qu'ils résistent à l'appel de la criminalité.
Delia is a hard working woman who is completely devoted to her sons, William and Santiago. She dreams to giving them a better life. Ten years ago, a disaster took her a little girl away and forces her to take refuge with her family in a miserable hotel in a poor district of Caragas where danger takes over. Delia is afraid for her children's life and will make whatever it takes to save them from the violence and for them not to give into crime.
Jeudi 26 Avril 2012 – 9h00 (cinéma Star)
« Sifuna Okwethu »
Bernadette Atuahene – 19min – Doc – USA – France
Un documentaire sur la perte d'identité raconté par la famille Ndolila qui retrace leurs efforts pour récupérer leur terre familiale volée par le gouvernement d'apartheid en 1973.
A documentary about loss, resistance identity and the elusiveness of justice as experienced by the Ndolila family in their quest to get back their family land stolen by the apartheid government in 1973.
Vendredi 27 Avril 2012 – 11h45
"Soldiers of God"
Enrico Masi et David Garbin – 13min – Doc – Angleterre – 2012
Au bout de l'autoroute du Nord derrière l'usine Coca-cola, nous avons découvert la communauté kimbanguiste. Vision contemporaine de Dieu dans une métropole.
On the edge of northern motorways, we discovered the Kimbanguist community praying in an industrial unit. Contemporary vision of God in a metropolitain global context.
Mercredi 25 Avril 2012 – 10h30
« Sortie 67 »
Jephté Bastien – 103min – Fiction – Canada – 2011
Dans le quartier Saint-Michel, à Montréal, un important membre d'un gang de rue, surnommée Jecko travaille dans le milieu de la drogue et de la prostitution sous les ordres de Brooklyn. Bien connu dans le milieu, il envisage de se retirer lorsqu'il est confronté à ses responsabilités familiales. Alors que se prépare une importante transaction, que son père, condamné à la prison pour le meurtre passionnel de sa mère, est sur le point d'être libéré, Jecko prend conscience que les choix qu'il fait définissent l'homme qu'il est. Un attentat envers ses associés déclenchera une escalade de la violence que Jecko s'applique à stopper.
Vendredi 27 Avril 2012 – 9h00
« Une Stèle pour Madagascar »
Randrasana Solo Ignace – 52min – Doc – Madagascar – 2010
2008, des amis rallient à pied Diego Suarez à Fort Dauphin : 2250 km en 114 étapes durant 7 mois. Ce film raconte leur périple et leur projet apolitique et laïque, rassembler la population malgache autour de l'édification d'une stèle.
2008, friends cross Madagascar from Diego Suarez to Fort Dauphin : 2250 km in 114 steps within 7 months. The film counts their trip and their neither political nor religious project to treat with always repeating history: Gather the people of Madagascar around the construction of a monument.
« Take too long »
Kwesi David – 17min – Fiction – USA – 2010
A la Nouvelle-Orléans, si jamais vous arrivez à survivre au vent, aux inondations et à la chaleur, on vous attend… sur un tapis de fortune, sans nourriture, boisson et dignité.
In New Orleans should you survive the winds, the floods and the heat, you are welcome to wait…in the dark, on a carpet of crap; without food, drink or dignity.
Mercredi 25 Avril 2012 – 20h00
« Tiiga »
Antoine Yougbaré – 26min – Fiction – Burkina Faso – 2012
Tiiga est un jeune orphelin. Sur les conseils de son amie Tiara, il a décidé de partir pour la ville, et retrouve alors un étrange personnage, Oussou. Celui-ci se présente à Tiiga comme un maître qui va le prendre en charge et lui permettre de voler de ses propres ailes. Arrivé en ville, Tiiga est « confié » par Oussou à Joseph, gérant d'un restaurant.
Tiiga qui a été en réalité vendu par Oussou, comprendra très vite dans quel piège il est tombé… Tiiga is a young orphan. Following the advice of his friend, Tiara, he decides to leave his village to the city where he finds a strange character, Oussou. He presents himself to Tiiga as a master who is going to take him under his wing. Upon, arrival to the city, Oussou leaves Tiiga in the care of Joseph, a restaurant manager. Tiiga who was in fact sold by Oussou, quickly understands the trap in which he fell…
Jury 2012 a été présidé par Monsieur Mohamed SOUDANI  (Réalisateur / Algérie / Suisse)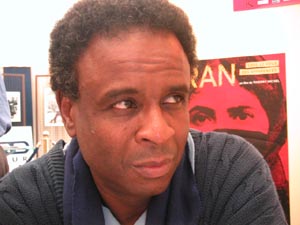 Et été composé par :
Madame Bettina EHERARDT (Réalisatrice / Allemagne)
Monsieur Lloyd WATTS (Acteur /Producteur / U.S.A)
Monsieur Jean-Pierre CARLON (Réalisatrice / France)
Monsieur Simon WOOD (Réalisateur Irlande)
Monsieur  Denys PININGRE (Réalisateur / France)
Mardi 24 avril 2012 – Soirée d'ouverture – BACHOT MUNA (Pianiste / Cameroun / Belgique) – Espace Miramar – 20h00 Mercredi 25 avril 2012 – SOULEYMANE DIAMANKA – (Hip Hop / Sénégal / France) – Espace Miramar – 20h00 Jeudi 26 avril 2012 – MICHELINO (Congo guitare) et le Congo All Star (Musique africaine / Congo / Afrique ) + NEGUS (Hip Hop / France / Sénégal) – Espace Miramar – 20h00 Vendredi 27 avril – PIERRE-MICHEL MENARD ( Kompa – Zouck – Afrique / Haïti / Canada -) Samedi 28 avril 2012 – Soirée de Clôture – Remise des Dikalos Award + Film de Clôture – Espace Miramar – 19h00